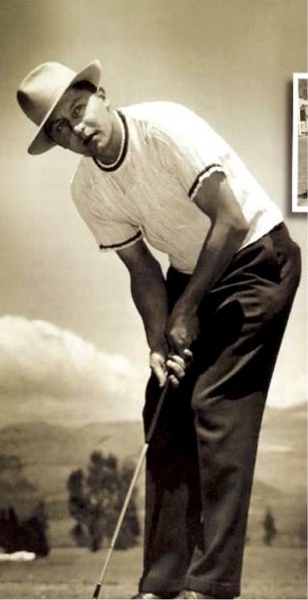 Welcome to the 92nd Ernie Pieper
Santa Clara County Championship
The members of historic San Jose Country Club welcome you to the 92nd playing of the Santa Clara County Championship. This tournament is appropriately named for Ernie Pieper Junior, who hoisted the Victors trophy 15 times spanning six decades (1929-1970).
This Championship was part of a long list of Ernie's victories which include the 1929 California State Junior Championship, two California State Amateur Championships (1941, 1944), and two NCGA Senior Championships (1970, 1973). Bobby Jones was so impressed with Ernie that in 1935 he sent a telegram inviting Ernie to his invitational in Augusta. The title "Legend" should never be used too loosely. In this case, we use it appropriately when talking about Ernest Pieper Jr. 60 years of winning championships is legendary.
Many great players have added this event to their golf resume over the years, including Congressman Don Edwards (1935, 1936, 1938). California Golf Hall of Famers Jack Bariteau (1947-48, 1954, 1958, 1960) and Hank Lucente (1972), famous amateurs Eli Bariteau (1950-51) and Jack Lovegren (1953, 1957), PGA Touring Professionals Ron Cerrudo (1964, 1966) and Forrest Fezzler (1969).
Current member champions include Gary Vandeweghe (1974), Greg Galasso (1992-95), Jay Myers (2009, 2011), Justin Suh (2014-15), and Joseph Bramlett (2003-04, 2006). The Tournament record of 201 set by Jack Lovegren in 1957 held strong for some 50 years until Joseph Bramlett set the new bar at a sizzling 11 under par 199.
Senior member champions include Gary Vandeweghe (1995), Clyde Berg (1996), Bob Amerian (1997) and Ric Jay (2006). Ernie's son Frank Pieper hoisted his Father's namesake trophy as well in 2007.
Our membership takes pride not only in hosting this historic event but also in our competitive triumphs. San Jose Country Club members have hoisted the trophy on 46 occasions in the tournament's now 90-year history.
Best of luck, and we wish you all a champion's success this weekend.
SJCC Membership
Ernest Pieper Jr.
Santa Clara County Champion
1929, 1931-33, 1937, 1940, 1943-44, 1946, 1949, 1952, 1959, 1967-68, 1970